JUNE 16 — JULY 21, 2018
The Alice
6007 Twelfth Ave. S., Seattle, WA 98108
@thealicegallery / thealicegallery.com
AFTER LIFE (what remains) is a multi-genre visual art and performance exhibition that stages a conversation between Asian Pacific American and Indigenous artists around the questions: what new strategies are needed to survive after environmental catastrophe and military intervention, by communities facing displacement and dispossession? How can speculation, humor, and fantasy fuel larger movements for social change around the Pacific Rim—from the Pacific Northwest, to California, to Southeast and East Asia—and in the heartland of the USA?
Featuring artists Alejandro T. Acierto, Michael Arcega, Leeroy New, Super Futures Haunt Qollective, and Rea Tajiri
AFTER LIFE (what remains) is funded in part by a grant from 4Culture, with additional support from UW Bothell School of Interdisciplinary Arts & Sciences
Read the curatorial essay for AFTER LIFE here
Public Programs:
Opening reception featuring a visitation by Super Futures Haunt Qollective: Saturday, June 16, 5 — 8 PM
Community screening of Lordville (2014) with post-screening Q&A and conversation between filmmaker Rea Tajiri and Angie Morrill of Super Futures Haunt Qollective: Friday, July 13, 6:30 — 8:30 PM
Closing reception featuring readings by local writers Marites Mendoza, Nejat Kedir, Sarah Dowling, & Woogee Bae: Saturday, July 21, 6 — 8 PM
News, reviews of AFTER LIFE (what remains):
"Haunting Oppression as a Decolonial Strategy of Resistance," review by Emily Pothast for Hyperallergic, July 15, 2018
Leeroy New's Aliens of Manila makes the cover of Seattle's leading weekly newsmagazine, The Stranger, June 6-June 19 issue!
AFTER LIFE (what remains) is a featured pick for The Stranger's Art + Performance Quarterly Summer 2018 edition and for The Stranger's June 20 issue!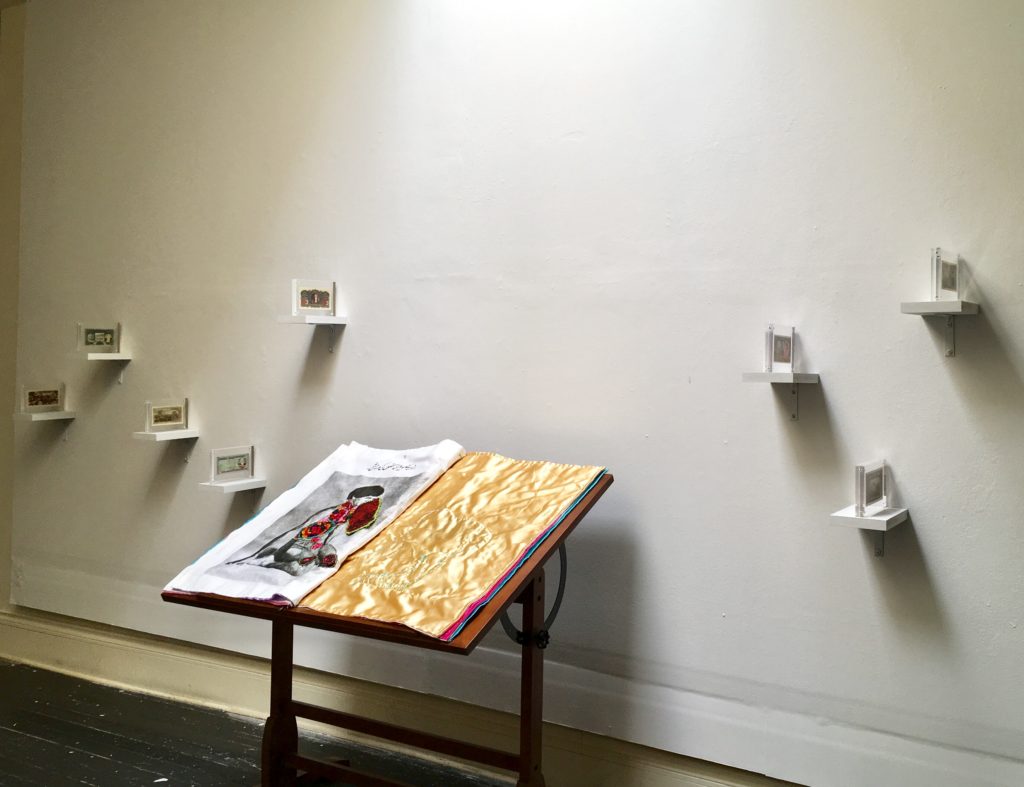 JUNE 16 — JULY 21, 2018
PROJECT DIANA AT THE ALICE (6007 Twelfth Ave. S., Seattle WA 98108)
thealicegallery.com / @thealicegallery
Queer Value is a two-person show that challenges us to reconsider the worth we place on subaltern spaces, places, and bodies. Zulfikar Ali Bhutto / Faluda Islam and Azin Seraj, queer diasporic artists in the US, redefine the paper arts in their respective projects Mussalmaan Musclemen and Concurrency: Foreign Exchange. Together, these artists joyfully and powerfully fabricate new spaces of desire, liberation, and belonging.
Opening night reception with Azin Seraj: June 16, 5 — 8 PM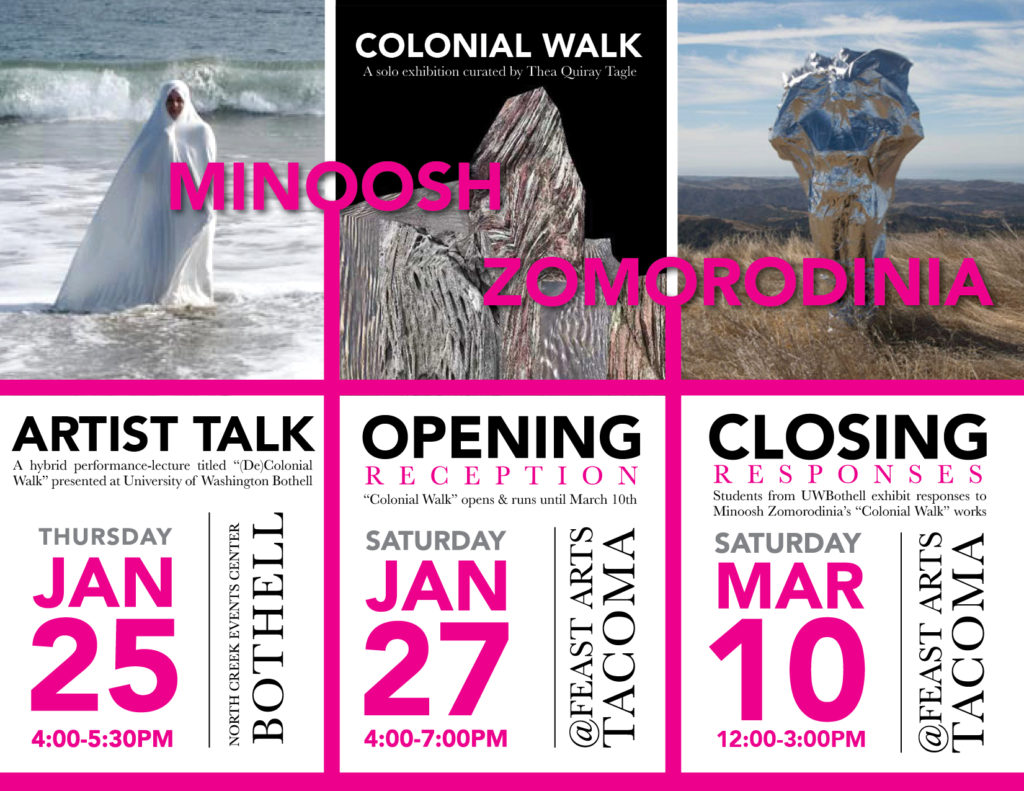 Minoosh Zomorodinia: Colonial Walk
Feast Arts Center
1402 S. 11th Street, Tacoma, WA 98405
January 27—March 10, 2018
Feast Arts Center (Tacoma, WA) and independent curator Thea Quiray Tagle present Minoosh Zomorodinia: Colonial Walk, an interdisciplinary art project that runs from January 27—March 10, 2018.  The project is comprised of a gallery exhibition of Zomorodinia's multimedia installation "Colonial Walk," in addition to prints and sculptures from the larger series.
Minoosh Zomorodinia is a San Francisco Bay Area-based interdisciplinary artist and educator of Iranian Muslim descent. She holds an MFA from San Francisco Art Institute, and has received awards including the Tosa Award (finalist), the Djerassi Resident Artist Fellowship, and the SFAI MFA Fellowship. She is currently an affiliate artist at the Headlands Center for the Arts, and her work has been exhibited nationally and internationally in Canada, England, Finland, Iran, Mexico, Romania, and South Korea. Colonial Walk marks Zomorodinia's Pacific Northwest debut.
Colonial Walk is a new project-in-process by Minoosh Zomorodinia that extends the artist's prior investigations into the relationship between the self and the natural environment. Meditating on the ways immigrants can or cannot make home in the United States, Zomordinia takes dérives (or psychogeographic walks) through nature, mapping her routes with geographical information systems (GIS) software and other programs. The videos taken along her routes are then reconstructed intro abstract pathways, and are projected onto larger sculptural forms— creating an ephemeral map of an impossible landscape of Zomorodinia's imagination. Visitors passing through the gallery alter the maps through their movements, and in doing so further challenge notions of ownership— our ownership of technology and of the land itself.
From mid-February through the show's closing on March 10, a series of creative responses to Colonial Walk will be featured in the gallery alongside the project. These responses will be produced by UW Bothell students enrolled in Thea Quiray Tagle and Anida Yoeu Ali's co-taught course on socially engaged arts practice.
Public Programs:
Opening Night Reception with the artist: Saturday, January 27 from 4—7PM
Minoosh Zomorodinia: (De)Colonial Walk
A hybrid-performance lecture at the University of Washington-Bothell
North Creek Events Center | Thursday, January 25, 4—5:30PM
Free and open to the public
Sponsored by the UWB School of Interdisciplinary Arts & Sciences' Islamophobia and the Arts RIG, Critical Acts RIG, Environmental Studies, Global Studies, and Science, Technology & Society
Selected reviews of Colonial Walk: