AFTER LIFE (what remains)
JUNE 16 — JULY 21, 2018
The Alice Gallery
6007 Twelfth Ave. S, Seattle, WA 98118
@thealicegallery / thealicegallery.com
AFTER LIFE (what remains) is a multi-genre visual art and performance exhibition that stages a conversation between Asian Pacific American and indigenous artists around the questions: what new strategies are needed to survive after environmental catastrophe and military intervention, by communities facing displacement and dispossession? How can speculation, humor, and fantasy fuel larger movements for social change around the Pacific Rim—from the Pacific Northwest, to California, to Southeast and East Asia— and in the heartland of the USA?
Opening reception:
Saturday, June 16, 5 — 8 PM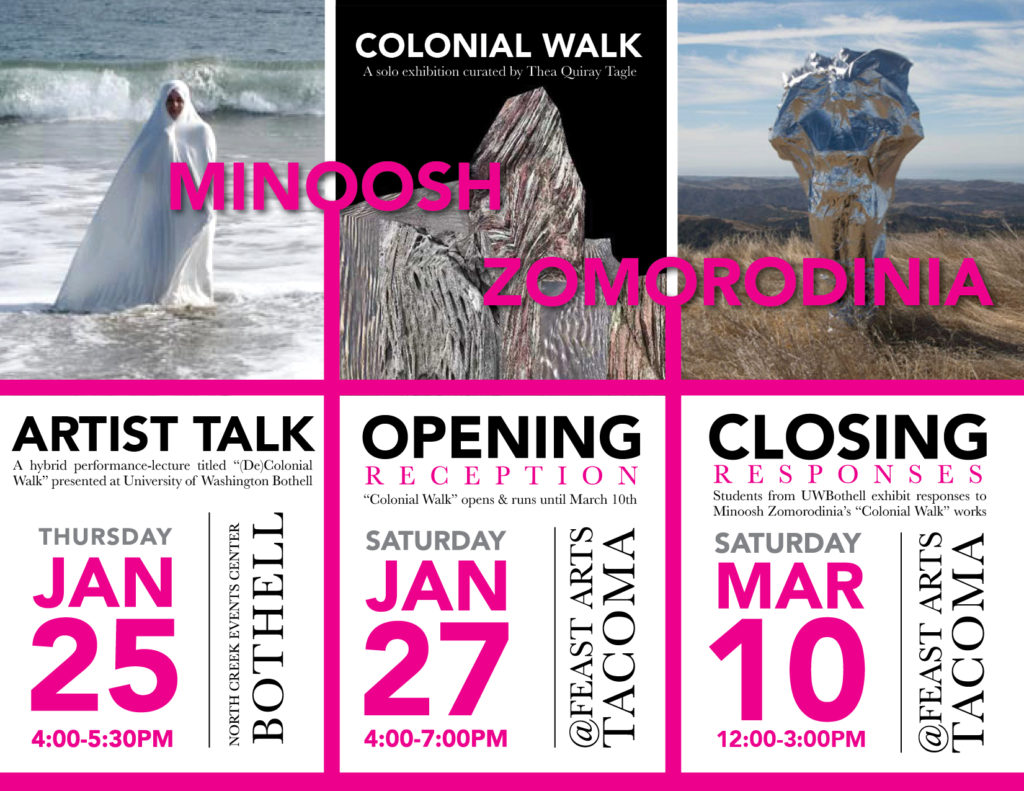 Minoosh Zomorodinia: Colonial Walk
Feast Arts Center
1402 S. 11th Street, Tacoma, WA 98405
January 27-March 10, 2018
Feast Arts Center (Tacoma, WA) and independent curator Thea Quiray Tagle present Minoosh Zomorodinia: Colonial Walk, an interdisciplinary art project that runs from January 27-March 10, 2018.  The project is comprised of a gallery exhibition of Zomorodinia's multimedia installation "Colonial Walk," in addition to prints and sculptures from the larger series.
Minoosh Zomorodinia is a San Francisco Bay Area-based interdisciplinary artist and educator of Iranian Muslim descent. She holds an MFA from San Francisco Art Institute, and has received awards including the Tosa Award (finalist), the Djerassi Resident Artist Fellowship, and the SFAI MFA Fellowship. She is currently an affiliate artist at the Headlands Center for the Arts, and her work has been exhibited nationally and internationally in Canada, England, Finland, Iran, Mexico, Romania, and South Korea. Colonial Walk marks Zomorodinia's Pacific Northwest debut.
Colonial Walk is a new project-in-process by Minoosh Zomorodinia that extends the artist's prior investigations into the relationship between the self and the natural environment. Meditating on the ways immigrants can or cannot make home in the United States, Zomordinia takes dérives (or psychogeographic walks) through nature, mapping her routes with geographical information systems (GIS) software and other programs. The videos taken along her routes are then reconstructed intro abstract pathways, and are projected onto larger sculptural forms— creating an ephemeral map of an impossible landscape of Zomorodinia's imagination. Visitors passing through the gallery alter the maps through their movements, and in doing so further challenge notions of ownership— our ownership of technology and of the land itself.
From mid-February through the show's closing on March 10, a series of creative responses to Colonial Walk will be featured in the gallery alongside the project. These responses will be produced by UW Bothell students enrolled in Thea Quiray Tagle and Anida Yoeu Ali's co-taught course on socially engaged arts practice.
Opening Night Reception: Saturday, January 27 from 4-7PM
Gallery Hours: Saturdays 12-4PM, Sundays 9AM-1PM and by appointment
Artist talk:
Minoosh Zomorodinia: (De)Colonial Walk
A hybrid-performance lecture at the University of Washington-Bothell
North Creek Events Center | Thursday, January 25, 4-5:30PM
Free and open to the public
Sponsored by the UWB School of Interdisciplinary Arts & Sciences' Islamophobia and the Arts RIG, Critical Acts RIG, Environmental Studies, Global Studies, and Science, Technology & Society
For more information, visit:
www.feastarts.com
www.rahelehzomorodina.com
www.theaquiraytagle.com
State of the State: Contemporary Filipino/American Art in the Bay Area
Asian Art Museum, San Francisco, May 21, 2015
Drawing its title from a painting by the late Carlos Villa, this roundtable conversation ruminates on the aesthetics and ethics of contemporary Filipino American art in the Bay Area. As one of the first sites of Filipino settlement in the United States—and a place where Filipinos have long fought to remain—San Francisco is an unusually fertile ground for Filipino/American artists and performers to hone and exhibit their craft. From the fight to save the International Hotel (an SRO housing elderly Filipino and Chinese men) from demolition in the 1970s, to the ongoing crises in housing and higher education, Filipino American cultural workers have continued to play a central role in inciting social change in the city. The methods and forms through which they do that, however, have taken very different form from what is generally understood as the genre of "protest art." In bringing together a small group of San Francisco-based artists, art educators, and cultural workers, we consider the state of art making in the city and discuss how new directions in Filipino American art are redefining notions of identity and community across the canvas, in the black box and in the streets. This program was organized and moderated by Thea Quiray Tagle, in conversation with artists Jenifer K. Wofford, Eliza Barrios, Michael Arcega, Cece Carpio and Lordy Rodriguez.